&nbsp&nbspThe bilingual site devoted to the cultural life in Sri Lanka and in France&nbsp&nbsp&nbsp&nbsp&nbsp&nbsp&nbsp&nbsp&nbsp&nbsp&nbsp&nbsp&nbsp&nbsp&nbsp&nbsp&nbsp&nbsp&nbsp&nbsp&nbsp&nbsp&nbsp&nbsp&nbsp&nbsp&nbsp&nbsp&nbsp&nbsp&nbsp&nbsp&nbsp&nbsp&nbsp&nbsp&nbsp&nbsp&nbsp&nbsp&nbsp&nbsp&nbsp&nbsp&nbsp&nbsp&nbsp&nbsp&nbsp&nbsp&nbsp&nbsp&nbsp&nbsp&nbsp&nbsp

Le site bilingue consacré à la vie culturelle au Sri Lanka et en France

---
H O M E &nbsp / &nbsp I N &nbspB R I E F



Sri Lanka / France


Cinema

Dance

Exhibition

Heritage

Literature

Music

Photography

Poetry

Spirituality

Travellers

Fascination of the body

Paul Cézanne

In the Light of Gauguin

Globalization

Jean de La Fontaine

Malraux / Segalen

Picasso-Rodin

Pigeon houses in Quercy

Raphael

Saint-Exupéry

Abortion

AIDS

Death Penalty

Mental Health


Raphael

Miniatures of Kangra, India




"RETURN TO EARTH..."

&nbspTombouctou, Africa.

&nbsp

A revival of a lost tradition?

The Earth architecture

A seminar organised in September 2000 by the
Alliance Française de Colombo and the University of Moratuwa (Sri Lanka).

A project : the creation of a Training Centre for Earth Architecture at the University of Moratuwa.

References

The Sunday Observer (Sri Lanka),17th September 2000.

The School of Architecture in France studies Sri Lankan clay architecture.
The grandeur and comfort of buildings made of clay explored.




Document télévisé "Bonsoir" (Channel ITN Sri Lanka), broadcast on 16th October 2000 at 8 p.m.

<< Back

&nbsp

Exhibitions

EXHIBITION AT VIBHAVI ACADEMY OF FINE ARTS.

The Vibhavi Academy is holding a series of exhibitions to promote students who have successfully completed the three-year course. Works of the students from the 2nd and 3rd batches will be on view.

Anur Krishantha exhibited his works from the February 2 to 6 .

Christine Puth is presently exhibiting until the February 13.

Arjuna Gunaratne will exhibit his work From the 16-20 February.

Dhammika Jayawardena will exhibit from March 2 to 6.

Manjula Priydarshana : March 16-20.

Saman Sugandha Liyanage : March 23-27.

Kusal Nandana Gunasekara : March 30 April 3.


Vibhavi Gallery is at No. 38, New Jayaweera Road, Ethul Kotte Tel. (00 94) 1 866227.
<< Back
&nbsp
Paul Signac, La Baie de Cassis, 1889.

"Méditerranée,
de Courbet à Matisse"

Grand Palais
Avenue du Général Eisenhower
tel : (00) (33) 1 44 13 17 17
21st September 2000 - 15th January 2001.
Pierre Bonnard Henri MatisseFélix VallottonPaul
SignacPaul CézanneEdvard
MunchClaude MonetAndré Derain
It is good to live in the sun.
As a result of a long experience, we know that the light is beneficial,
hygienic, absolutely necessary in order to maintain us in good health.
Paul Souriau, Esthétique de la lumière, 1913.
<< Back
&nbsp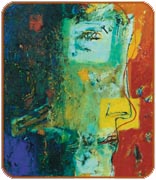 Woman Profile -1.
"I like to paint the colours of fire, because it has a feel to it."

"To me, fragrance has a colour, and the sweet mingling of the fragrances of many blooms always manifested itself as yellow to me."

KINGSKEY GUNATILLAKE'S AR EXHIBITION
From 07th March to 28th March at Paradise Road Galleries, 2, Alfred House Road, Colombo 3. tel : (00 94) 01 58 21 62
from 10.00 a.m. to midnight.
A graduate of the College of Fine Arts, University of Kelaniya, Sri Lanka, Kingsley is a full-time artist. He has won many international awards in Japan, Germany and what was then Czechoslovakia. He has also had solo exhibitions in Scotland, Philippines and in Sri Lanka and his paintings are in collections in Hong Kong, Canada, Germany, Scotland and the Philippines. His paintings are also in the Presidential Collection of Contemporary Art in Sri Lanka.
Been strongly impressed by the wonder of the medieval Sri Lankan temple art, thanks to the opportunity he has got to conduct the restoring programme of the wall painting in Sri Dalada Maligawa, he takes many traditional designs into his canvas to blend with his abstract themes. Within his bold brush strokes, are the stylized forms of flowers, leaves and vines as in the ancient temple paintings.
&nbsp


Transition-2.
The sainted odeur of the offered flowers, that he has sensed while working at Sri Dalada Maligawa, is not only a fragrance for this artist, but a colour as well. "The sweet mingling of the fragrances of many blooms always manifested itself as yellow to me."
The Suriyakantha équipe experienced the Fragrance of these tableaus and its yellow colour at their best in the sophisticate ambience of the Paradise Road Galleries and invites its readers to experience the same...
Suriyakantha
Read more : Time encapsulated in the present - Kingsley Gunatillake's inimitable art
<< Back
&nbsp

Le Monde, Paris
Friday 15th December 2000
Sandrine Blanchard
On the 14th of December, Jack Lang, Minister of Education, presented his five year plan which concerns the development of arts and culture in schools.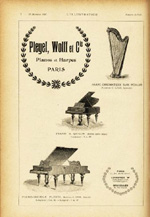 L'Illustration, Christmas Edition,1897.

A law which has been voted in 1988 stipulates :

Teachings in art contribute towards

the achievement of individual capacities and the
equality in the access to culture...

In the recent years, whatever the political orientation, there was a consensus on this matter, highlighting the importance of artistic disciplines as

reducing inequalities and improving the social cohesion.

This plan includes eleven disciplines : music, fine arts, theatre, cinema, dance, literature, architecture, cultural heritage and museum, design, aesthetics, scientific and technical culture.
Minister Jack Lang considers that the right to art must be really recognized for any child in France, and the artistic education has to be part of the basic learning.
<< Back
&nbsp
Daily News, Colombo
3d January 2001
The Japan International Corporation Agency (JICA) has donated a Rs. 24 million `Micro Film Unit' to Sri Lanka on request made by President Chandrika Bandaranaike Kumaratunga.
The new Micro Film unit consists of modern micro cameras, scanners, photocopy machines, film processing machines and book binding machines. This is the first such Micro Film Unit set up in Sri Lanka.
A copy of any old book can be obtained by using this unit. Now copies of valuable old books can be provided for the use of the public while the originals can be preserved.
At present there are 1.2 million books in the Colombo National Museum Library including the first book published in Sri Lanka.
<< Back