Since her debut nearly four decades ago, Winitha Fernando's aesthetic creations have won her accolades and awards including an Honorary Diploma from Paris in 1979.
Now after nearly half a century of pursuing a predominantly secular mode of art, in which sensuous rounded figures of women at work and landscapes dominated her canvas, this versatile artist has decided to devote her twilight years of life to religious art - focusing mainly on Christian Art.
"I have been invited to exhibit some of my new paintings at the Ripon Cathedral and I'm looking forward to holding a seminar on "Fullness of Life through Art" at an international conference to be held in early January next year."

Which is why, as a final gesture, Winitha has decided for the last time to hold an exhibition of her work covering a 30 year period from 1970 to 2000, at the Lionel Wendt Art gallery this month.

"I have called it a " Retrospective Art Exhibition", as it will display most of my work during the past three decades. It will probably be the last exhibition of this kind that I will hold."
Passionately fond of her homeland despite long absence from Sri Lanka, Winitha asserts that most of her inspiration for her paintings comes from her homeland.
A close relative of the well-known artist David Paynter who was her tutor at the Institute of Aesthetic Studies, Winitha admits he influenced her especially in her figure compositions.
"He was my maternal uncle. In fact, he lived in our house at Lunawa when he was executing that beautiful painting of the "Transfiguration" for the chapel at St. Thomas's College, Mt Lavinia."
Reference : Carol Aloysius - Sunday Observer December 9, 2001

MUHANNED CADER



"Hurrah for the Circus"
Recently
Barefoot Gallery,
706, Galle road, Colombo.
tel (00 94) 01 58 93 05
&nbsp

Untitled, Acrylic on handmade paper, 1998.

&nbsp

"You'll see no big, elaborately-finished canvases gleaming with potential investment value, no mixed-media 'installations' betraying nothing more than their creator's inability to combine novelty with taste. What you will see, instead, is a collection of lucid pen-and-ink drawings, each one displaying more wit and imagination in its exploitation of technique alone than most of his rivals can bring to the execution of entire oeuvres. Not that Muhanned is the kind of artist who flaunts his technique; more often than not, he reveals it by concealing."

Richard Simon,
The Sunday Times, November 15, 2001.
"Hurrah for the Circus", an exhibition of his drawings is on display at the Barefoot Gallery from November 26 to December 9, 2001.

JAYASIRI SEMAGE in Nepal.



Siddhartha Art Gallery,
Kathmandu, Nepal.
Recently
Some 45 traditional paintings by Jayasiri Semage, depicting Sri Lankan village folk, lifestyle, environment etc. will be displayed at an exhibition from November 30 - December 10, 2001 at the Siddhartha Art Gallery in Kathmandu. This exhibition makes Semage becomes the first Sri Lankan artist to display the works in Nepal.
The exhibition is organized by the Sri Lankan Ambassador in Nepal, Premila T. Deen, and the Embassy staff.
Semage, as an artist, enjoys a pre-eminent place in both the local and international scenes. He is well known as an artist with an outstanding local touch. His creations may be seen in the Buddhist Viharas of Malaysia, Singapore and Penang. He has had over 10 solo-exhibitions, both locally and abroad (ranging from Spain and USSR, to Japan and Korea).
Semage's stylization has been influenced by Picasso. The Buddhism too plays a vital role among his themes. His pigments are soft earth and pastel-toned. The figures are curvaceous and easy on the eyes, harmonious compositions with rhythmic designs.
This self-taught artist who was born in a small fishing village in the Southern Sri Lanka recalls the memory of his roots :
"As a native villager I've retained many picturesque images from my childhood. Village men and women, as well as children, still linger in my memory".
&nbsp
&nbsp
&nbsp
Homage to George Keyt (1901 - 1993)
Sri Lankan painter, writer and poet.


&nbsp

All true art today is universal (...)

True painting is not description, as there is another language for that. It is not even definition. It is emphasis in its most unequivocal form of line, colour and shape. But to those not literate in it, painting is as meaningless as any other language, though perhaps more tantalising.

George Keyt, On Art, Sankha, September 1958.


George Keyt by Lionel Wendt
(c) Lionel Wendt Foundation
George Keyt, Artist with Muse, 1963
Collection Mr. & Mrs. Nihal Rodrigo

See our Gallery :
&nbsp&nbsp&nbsp&nbsp Miniatures of Kangra

Born in Sri Lanka, Keyt started exhibiting in the 1920s and the work from this period is strongly influenced by Buddhist and Hindu iconography.

The 1930s saw him preoccupied with the depiction of episodes from the Jatakas, culminating in the representation of the life and times of Buddha on the walls of the circumambulatory shrine room of the Gautami Vihara, Borella in 1940.
At the same time, he was exposed to the influence of Western Art, in particular the early cubist landscapes of Picasso and Braque, as well as Picasso's distortion of the human figure. It was Keyt's unique achievement to fuse these influences into a new artistic vocabulary.

In1954, his work was exhibited at the ICA, London by Sir Herbert Read and afterwards this exhibition travelled to the Art Institute, Rotterdam. His work is to be found in the permanent collections of the Victoria and Albert Museum, London, as well as various public and private collections in India and Sri Lanka.
"Like Ediriweera Sarachchandra in drama, Chitrasena in dance, Amaradeva in music and Lester James Peiris in cinema, George Keyt represents an enduring triumph for Sri Lanka and the people who value their art.
Much has been written of the artistic "influences" on Keyt - from Sri Lankan temple paintings to Cézanne, Braque, Picasso and Cubism ; from Kangra miniatures to Hindu sculpture ; from other modes like the Indian raga and the Sringara tradition to even indeed Walt Disney (the Yakshas in the Mara Yuddaya at the Gotami Viharaya in Borella!)."
Nihal Rodrigo, The Island, April 11 2001.
&nbsp
An exhibition of George Keyt's paintings, the launch of a postage stamp and a book release have been organised by the George Keyt Foundation to mark the master painter, writer and poet's 100th Birth Anniversary which falls on 17th April.
The stamp in his honour and the Centennial Anthology have been launched on April 24. The exhibition was held from April 24 to May 5 at the newly constructed Harold Peries Gallery at the Lionel Wendt Arts Centre. The anthology contains prints of a large number of George Keyt's paintings, a collection of articles written on the artist and his work and a collection of his poetry.
The George Keyt Foundation's schedule of events for the year includes this special programme to mark the artist's 100th birth anniversary. The second Kala Pola for the year will be held on July 8 and the annual international artists' camp and 'Nawa Kalakaruwo' is to be held towards the end of the year. An exhibition of 'Sri Lankan Painting and Sculpture' is also to be organised for August.
&nbsp

References
Sankha - Journal of Arts and Letters, Number 2, September 1958.
43 group - Catalogue of the exhibition, In honour of George Keyt at 90, presented by The George Keyt Foundation, The Sapumal Foundation and The Lionel Wendt Memorial Fund,
January 1991.
Moods and Modes - 50 years of Sri Lankan painting,
The George Keyt Foundation, Colombo.
Lionel Wendt - A Centennial Tribute,
The Lionel Wendt Memorial Fund, Colombo, 2000.
George Keyt - A Centennial Anthology, The George Keyt Foundation, Colombo, 2001.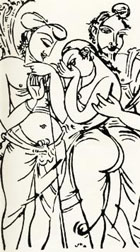 George Keyt, Bodhisatva Vessantara giving away his wife Madri Devi to Sakra in the guise of a Brahmin - an episode from the Vessantara Jataka.
&nbsp
&nbsp