H O M E &nbsp / &nbsp I N &nbspB R I E F
Sri Lanka / France

Cinema

Dance

Exhibition

Heritage

Literature

Music

Photography

Poetry

Spirituality

Travellers

Fascination of the body

Paul Cézanne

In the Light of Gauguin

Globalization

Jean de La Fontaine

Malraux / Segalen

Picasso-Rodin

Pigeon houses in Quercy

Raphael

Saint-Exupéry

Abortion

AIDS

Death Penalty

Mental Health

Raphael

Miniatures of Kangra, India

The Island, Colombo
4th December 2000.
Opinion
French Language exam results - a disaster

I draw attention to the news item under above title published in your esteemed newspaper on 29/11/2000.
First of all I must thank 'The Island' newspaper and journalist Ms. Himangi Jayasundere for highlighting the plight of students who offered 'French' for their A/Level this year and just got their results.
According to the school sources, it is reported that around 85% who offered this subject this year have failed. The most unfortunate and concerned matter is that most of these students have secured A's and B's for their other two subjects and failed in French.
This situation justified that there is some bad element in the French paper which has to be rectified early for the sake of students who offer this subject at their A/Level. (...)
Any educationist will agree with me that the marks for a subject at any public examination could not be so negative unless there is something wrong in the way the paper is setting. The authorities could review the results of other subjects including other foreign languages and understand the validity of this position.
Hence, on behalf of the students who wish to learn this lovely language, I appeal to the authorities to take some action to rectify this situation so as to pave the way for thousands of students who wish to learn this subject to do so with confidence.

'A concerned French teacher'
Dehiwela
Daily News, Colombo
20th January 2001
Fresh mandate for GCE A/L paper

The Ministry of Education has appointed a special committee of representatives of the French Teachers Association, Examination Department and University Academics, to study the issues that have been raised concerning the GCE A/L French Examination August 2000, Education Secretary Tara de Mel said yesterday.
Parents of children who sat this paper, members of the French Teachers Association, School principals and several members of public have made complaints to the Ministry of Education regarding the content and the structure of the said paper and the failure rate observed at this examination.
The committee chaired by Dr. Wijaya Jayathileke Director SLFI (who is currently chairing the Ministerial Committee on Analysis of the GCE A/L Examination 2000 and the Common General Paper) has been mandated to study in-depth the content, structure and format of the GCE A/L French August 2000 paper, study the performance and analyse the results of this paper held last year, and make recommendations to the Ministry of Education by 15 February 2001 on all aspects connected to the syllabus, teaching and examination of the GCE A/L French examination.
The Ministry expects to study the recommendations of the Committee and make appropriate corrections to the syllabus, teaching and examination of A/L French in the future.

<< Back

In Paris, the reopening of two Museums !

A very good news for the lovers of Asia,
the reopening of the



Musée GUIMET
"Musée National des Arts asiatiques"
6, Place d'Iéna
75016 Paris
tel : 33 1 47 23 61 55 - 33 1 56 52 53 00.

The Musée Guimet

is the first museum of Buddhist art in Europe.
A magical place at the heart of Paris :
Musée DAPPER
Musée Dapper, 35, rue Paul-Valéry, 75016 Paris.
Open every day from 11 am to 7 pm,
admission charge 30 FF. Tel : 01 45 00 01 50.

Exhibition : Les Arts d'Afrique.
1st December 2000 to 30th June 2001.
Catalogue Gallimard-Musée Dapper, 360 pages,
300 FF.

&nbsp
Wood mask and statue «Boyo»
(Democratic Republic of Congo). (AFP)
After two years of closure, the new installations of the Dapper Museum have been recently inaugurated.

This private Museum was created in May 1986 by a French industrial, Michel Leveau, previously working as government official and counsellor in Africa.

In proximity of the Avenue Victor-Hugo, this new Dapper Museum includes, in addition to the exhibition halls, a cafeteria, a library and an auditorium.
This renovation has been realised by the architecte Alain Moatti.

For more details, read the article of Jean-Marie Tasset
Le Figaro, 8 décembre 2000

Confluence

ARTS D'AFRIQUE
Joint Publication by Daniela Bognolo, Vincent Bouloré, Youssouf Tata Cissé, Marianne Cornevin, Henry John Drewal, Stefan Eisenhofer, Jean-Paul Notué, Jean Nsondé, Constantin Petridis et de Raphaël Visocekas .

Edited under the supervision of
Christiane Falgayrettes-Leveau
360 pages, 220 ill., 235 x 320 mm.
Livres d'Art, Gallimard. 2000.

The plastic traditions of the Black Continent are full of lessons to be learned. It is what we discover by reading the eleven contributions of this book, which originate from different fields such as historians, historians of art and anthropologists; their different approaches are confluent.
In the first part, they interrogate the past through the archeological items which, if we consider the most ancient, go back to the first millenium B.C.; then, they describe the court arts of kingdoms which are either always present in the history or completely forgotten.
The second part is based on some large geographical and cultural groupings, and studies the transmission, in sub-Saharan Africa, of concepts and philosophies that have influenced the great artistic practices.
The iconography of this book relies on artistic works which present an exceptional plastic value, and offers a real initiation to African Arts. The language of masks and naturalist or deeply stylized statues appear universal in expressing something about the place of the man in our world.
<< Back
Les Pêcheurs de Perles (The Pearl Fishers),
by Georges Bizet
A performance at the Opéra de Marseille
with Maria Bayo
27th April - 6th May 2001.
(Tel : 00 33 (0)4 91 55 11 10)

The Opéra de Marseille recently presented the original version of "Les Pêcheurs de Perles" by Georges Bizet (1838-1875) with the Spanish soprano Maria Bayo (Leïla) and the American tenor Gregory Kunde (Nadir), conductor G. Delogu and director Christiane Issartel.
&nbsp&nbsp&nbsp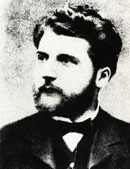 Georges Bizet, about 25.
Photo by Nadar.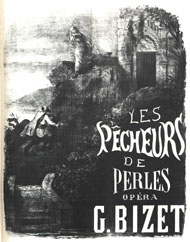 &nbsp&nbsp&nbsp&nbsp
Les Pêcheurs de perles,
Poster by Leray (1863). BN, Opéra.
"Les Pêcheurs de perles", the work of his youth, is one of the most famous Bizet's works. During his life this opera has been staged only 18 times from 30th September to 13th December 1863.
After been altered several times, this work finally got its original colour in 1974.
"If we consider the dramatic point of view, the original version is clearly superior", says the artistic director of the opera. "Les Pêcheurs", is brought back to life and shows again the art of musical composition and the dramatic genius that were achieved by the young artist of 25."
All the talents of Bizet, which will find the ultimate recognition in his most famous opera Carmen (1875), are expressed in this narration of a romantic and magical East.
"Les Pêcheurs" tells the story of a male friendship which is disturbed by the love of the same woman.
...Its setting is the Island of Ceylon.
Read more :
Georges Bizet, Les Pêcheurs de perles, L'Avant-Scène Opéra, October 1989.


Louis Jacolliot, Voyage au pays des perles, Dentu Paris, 1874, 4th edition 1877.


Henry William Cave, The Book of Ceylon, Cassell and Company London, 1908.


Dr Fred. Blanchod, Escales chez les Pêcheurs de perles, Payot Lausanne, 1942.


Cover page
L'Avant-Scène Opéra, Barbara Hendricks.
<< Back
&nbsp
Vajira's newest ballet - Bera Handa
Sunday Observer, 11 February 2001.
Sri Lanka's prima ballerina Vajira, continues to take centre stage. It is two years since her last public performance, continuing a lifetime of dedication to dance. She has celebrated 50 years as a dancer.
Choreographed by Vajira, Berahanda is the mythical story of the origin of the drum, an integral part of the culture of Sri Lanka.
Danced by the fourth generation students of the Chitrasena Vajira School of Dance, the ballet is proof that the torch has indeed passed down the generations.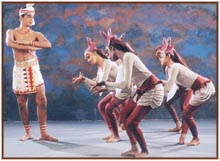 Berahanda tells the story of God Sakra's dalliance with an earthly maid, and the son of their union, who created the first drum.

Girls weaving colourful patterns, tree goddesses sensuously descending to earth, frisky horses drawing 'Sakra' chariot, a herd of frightened bulls, 'yakkas', and other magical creatures in mime and dance weave this fascinating story.

February - 16th, 17th and 18th at the Lionel Wendt Theatre at 7 p.m.
Charmaine Mendis
<< Back
The Sri Lankan film master craftsman Lester and his wife Sumithra Peries were honoured with Deauville medal and Golden Lotus award for their lifelong contribution to the Asian cinema in France last week
They were invited to the third Asian Film Festival in Deauville from March 1 to 4 and four of their films, 'The change in the village' (Gam Peraliya), 'The Treasure' (Nidhanaya), 'The village in the jungle' (Beddegama) and 'Letter written in the sand' (Sagara Jalaya) were screened during the festival.The festival was featured by dozens of Asian films from almost all the countries from Asia. Honouring Dr. Peries and Sumithra was the highlight of the event.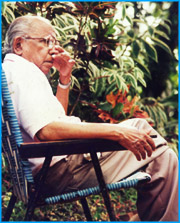 "At 82, Lester James Peries is still in good form, has a sharp mind and mischievous humour, Asian courteousness and the simplicity of the greatest," said Le Figaro, a French newspaper referring to Dr. Peries.

"Very much influenced by my documentary past, I was thus the first to produce films, adapted from novels based on Sri Lankan reality. Ninety percent of Sri Lanka is rural. My favourite themes? Family, daily life in the village, superstitions, human and philosophical relationships between beings. I film expressions, gestures and faces which say much more than words," Lester was quoted by the paper as saying.

In honour of Dr. and Mrs. Peries, a special event is organised by Sri Lankan Embassador in Paris C.D. Casie Chetty, in UNESCO.
This featured the screening of Sumitra Peries' film 'Sagara Jalaya' followed by a reception to which friends of Sri Lanka and of Sri Lankan cinema in France were invited.
Ranga - Daily News, Colombo, 10th March 2001.