H O M E &nbsp / &nbsp I N &nbspB R I E F
Sri Lanka / France

Cinema

Dance

Exhibition

Heritage

Literature

Music

Photography

Poetry

Spirituality

Travellers

Fascination of the body

Paul Cézanne

In the Light of Gauguin

Globalization

Jean de La Fontaine

Malraux / Segalen

Picasso-Rodin

Pigeon houses in Quercy

Raphael

Saint-Exupéry

Abortion

AIDS

Death Penalty

Mental Health

Raphael

Miniatures of Kangra, India

&nbsp
The School of Paris 1904 - 1929,
"la part de l'Autre" .
Musée d'Art moderne de la Ville de Paris,
11, avenue du Président-Wilson, 75116 Paris
tel : 00 33 1 53 67 40 00
till the 11th March 2001.

http://www.paris-france.org/musees
In Paris " des années folles", we meet at Montparnasse or Montmartre, between 1904 and 1930
A Rumanian, Brancusi (1876-1957)
A Russian, Chagall (1887-1985)
A Polish, Kisling (1891-1953)
An Italian, Modigliani (1884-1920)

A Bulgarian, Pascin (1885-1930)
A Spanish, Picasso (1881-1973)
A Lituanian, Soutine (1894-1943)...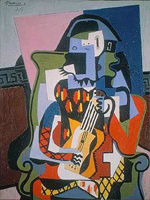 Pablo Ruiz Picasso - Arlequin, 1913
Gemeentmuseum, La Haye.

It is difficult to imagine a more "colourful" composition at the image of the "Arlequin" by Picasso...

The name "Ecole de Paris" has been used for the first time by a journalist (Figaro) and novelist, André Warnod.
After a complete description of the most proeminent French artists from Cézanne to Bourdelle, he mentions the artists who lead the struggle, for example Dunoyer de Segonzac, Utrillo, Dufy or Braque, and adds to the list these foreigners who
like, for affective reasons, to stay in France.
Their names are Picasso, Pascin or Chagall...

Léonard Foujita - Le Salon à Montparnasse
MAM Genève.


The School of Paris does exist...

It is quite difficult to precise what foreigners borrow from us
and what we borrow from them.

In any case, we are sure that Paris is an artistic center
which is extremely active...»

André Warnod
Comoedia (1925)
These foreigners, these artists who were the "others", made the choice of Paris, "Ville - Lumière", as the place they like in order to develop their art - a heterogeneous encountering of "aliens"; the only common points were the love of Paris and a passionate vision of art : melting pot of cultures and breaking-off with the artistic movements that mark the beginning of the 20th Century towards an hesitating modernism.
Important things occur in Paris not only in fine arts, but also in all forms of the artistic expression. Therefore, it is not a surprise to meet in these groups some poets, as Jean Cocteau or Guillaume Apollinaire , and also writters as Blaise Cendrars.
" We have been told that the ending era is the era of nationalities.
Probably, the coming era will be an European era. "
Revue Poème et Drame (1912)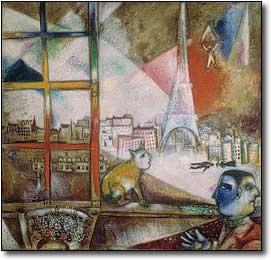 Marc Chagall - Paris par la fenêtre
Guggenheim New York.
When, in 1925, the existence of the "Ecole de Paris " is recognized, the cosmopolitan spirit of the beginning wich was able to survive to the World War I, is again threatened by a rising tide of withdrawal, xenophobia and anti-Semitism.
Anticipating the future disasters, the first School of Paris disintegrates in 1929.
A second School will arise after the World War II, with the denomination as the only common point.
&nbsp
Bibliographical References
L'ECOLE DE PARIS, 1904-1929, la part de l'autre
Co-édition Paris- Musées / Société des Amis du Musée d'Art moderne de la Ville de Paris.
Catalogue of the Exhibition.
SOUTINE, le tourment flamboyant
Daniel Klebaner, Somogy.

MODIGLIANI, biographie


Canale Arte Editions, diffusé par La Martinière.

<< Back