Alberto Giacometti at the Centre Pompidou :
Le dessin à l'oeuvre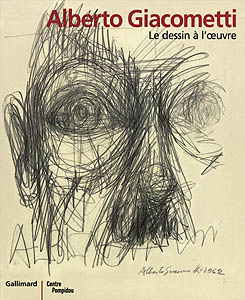 "In painting, as in sculpture, only the drawing is important."

"Analyzing discourages my hand."

Alberto Giacometti

Centre Pompidou
Tel. : (00 33) 01-44-78-14-63.
Catalogue : introduction by Agnès de la Baumelle,
articles by Jean-Louis Schefer and Florian Rodari ;
256 p., 220 illustrations, 260 FF (39,64 EURO).
Co-publishers : Centre Pompidou - Gallimard.
At the occasion of the centenary of his birth, the Centre Pompidou presented recently an Exhibition of 200 works of Alberto Giacometti (1901-1966).
Endless quest towards reality...
This selection of drawings from the years of apprentissage gives the possibility to analyse the classical and modern nature of the Giacometti's drawing.
"The practise of drawing is the necessary mean by which Giacometti can "see"; the white of the paper is the most immediate and also the most anxious place in order to capture the living presence of the being or the object in the space and light."
Swiss sculptor and painter, Alberto Giacometti hailed from a family of artists - his father Giovanni (1868-1933) and his uncle Augusto (1877-1947) were both painters. His young brother Diego, born in 1902, was his assistant, but also developed his personal career as a sculptor. "Having Diego was like possessing four hands instead of two."
Alberto Giacometti himself began his career by studying painting in Geneva from 1919 - 1920.
From 1922 to 1925, he worked in the Académie de la Grande-Chaumière with Bourdelle.
Firstly influenced by Cubism, in the late 20s and early 30s , Giacometti became involved with Surrealists.
Later (late 40s), he created his famous allongated and emaciated sculptures.
«Femme debout». (Photo AFP)
The Exhibition "Alberto Giacometti. Le dessin à l'œuvre" was presented under the patronage of the Crédit Suisse First Boston.
&nbsp

Maurice Estève,
Black and grey Composition.

Maurice Estève (1904 - 2001)

Last representative of the School of Paris, Maurice Estève died on Wednesday 27th of June at the age of 97.

&nbsp

"I find my greatest source of wonder in what is emerging from hands."


Maurice Estève
Born in Culan, Cher (France) on the 2nd of May 1904, he was, since the death of Jean Bazaine (1904-2001), the last representative of the French painting that emerged between the two World Wars, and took the name of Ecole de Paris (School of Paris).
Estève started painting in his young years (about 1915), and familiarized himself with art in Louvre by discovering Primitive painters, such as Ucello and Fouquet, and Paul Cézanne.
Excepted some studies in the Academies of Montparnasse, he was self-educated. After a short surrealist period in 1928, he has been influenced by Fernand Léger (1881-1955) and developed a tendency which exploits the discoveries of cubism and the constructive power of colour.
"Colour is a fantastic raw material,
as necessary to life as water and fire".

Fernand Léger


Maurice Estève, Fiancés of the New Year (1930).
In 1937, he collaborated with Robert Delaunay (1885-1941) on decorations for the Air and Railways pavilions at the Exposition Universelle.
Nevertheless, his life was difficult, and he planned to abandon painting and to embark on cinema. For several years, he continues to explore cubism through still-lifes, interiors or landscapes, with some frequent returns to the example of Cézanne, who has been his permanent reference.
He gradually developed towards a colorful abstraction of semi-geometrical forms. By the 1950s he was recognized as an outstanding representative of the school of Tachism whose members derived their abstractions from natural appearances in the manner taught by Roger BISSIERE (1888-1964). His colour remained always both subtle and bold.
Reference : Harry Bellet
Le Monde 30.06.01