Asia / Sri Lanka&nbsp

ART
BUDDHISM

THE SPIRIT OF ASIA. JOURNEYS TO THE SACRED PLACES OF THE EAST


Alistair Shearer, Michael Freeman
Thames and Hudson - ISBN : 0500510237.
Long distance travel has opened the eyes of the West to the rich cultural heritage of Asian countries, and to the ability of their great belief systems to regenerate, refresh and renew. These sacred sites are seen as places of central importance, where heavenly and earthly energies are thought to intersect.

THE BUDDHA'S DISCOURSE AND WITTGENSTEIN


Prof A D P Kalansuriya
Compassion Buddhist Institute, Sri Lanka, 2003.
This book is no doubt thought-provoking and useful to those who excel in philosophy, logic, ethics, Buddhism and linguistics. It is an authoritative one and even those in the Western world who show an interest in contemporary philosophy and study of the Buddhist doctrine would welcome it most.
(Dr. Wimal Wickramasinghe)




COLORS OF THE ROBE


Ananda Abeysekera.
University of South Carolina Press, ISBN: 1570034672, November 2002.
Religion, Identity, and Difference.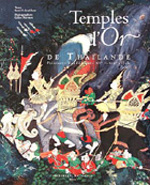 TEMPLES D'OR DE THAILANDE


Santi Leksukhum, text, Gilles Mermet, Photographs.
Editions de l'Imprimerie Nationale, 2002.
Buddhist paintings XVth-XIXth Centuries.


LES CHEMINS DE BOUDDHA


Steve NcCurry
Editions Phaidon
ISBN : 2702206670.
A beautiful journey into the universe of the Thibetan monks...

LA MONTAGNE DES DIX MILLE BOUDDHAS


Yun Gyeong-ryeol
Antoine Stephani
Cercle d'Art
ISBN : 2702206670.

HIMALAYA BOUDDHISTE


Olivier Follmi / Matthieu Ricard / Danielle Follmi
Editions La Martinière
ISBN : 2732428744
(September 2002)

ENVIRONMENT

A CHECKLIST OF BIRDS OF SRI LANKA


Gehan de Silva, Sri Lanka Natural History Society, Colombo 2001.


A CHECKLIST OF BIRDS IN YALA


Deepal Warakagoda, S.L.N.H.S., Colombo 2001.
These two books provide the reader with a wealth of information on birds found in Sri Lanka and a systematically arranged checklist to be used by bird observers. Each book contains five columns along with boxes where bird watchers could tick off the species they have observed.

FICTIONS

CEYLON BEATEN TRACK


W.T.Keble, Sooriya Publishers.
Written in 1940, this book gives an extensive picture about ancient sri lanka's (then Ceylon) glory. Travelling around the country, Keble articulates in an attractive style about his unforgettable experiences of pre-independant Ceylon.

VANISHED TRAILS


R.L. Spittle, Sooriya Publishers, Colombo.
Vanished Trails unfolds the lives of three generations of Veddas in pre-independant Ceylon, in their transition from troglodyte, food-gathering stage to the crude beginnings of the hut-dweller and food producer.

LES JARDINS DU TIGRE (The Gardens of Tiger)


Michel Grisolia, first edition : Albin Michel, 1998, Livre de poche, 316 p., 5,30 €,. [French]
A beautiful evocation of Colombo, the Capital of Sri Lanka, where meet two men, who fell in love with the same woman suicided ten years ago. Farrel, inconsolable, has only one idea in his mind : taking his revenge on Norden, the husband who is considered by him as the responsible of the drama. In the oppressive ambiance of a country splitted by a civil war, this encounter looks like to be a tragedy that closely mixes a real suspense with a subtle analysis of human ambiguity.
www.albin-michel.fr

HISTORY

MONARCHS OF SRI LANKA


H.M. Mervyn Herath, 2001.
"To satisfy a long-felt need among Lankans to acquire even briefly, some knowledge about the past monarchs of their motherland", Mervyn Herath has written this book compiling the details of Sri Lanka's rulers over 2500 years. The book is well illustrated with some rare reproductions while the author has tried to include sketches as many rulers as he possibly could collect.

HISTORY OF COINS AND CURRENCY IN SRI LANKA


G.P.S.H. de Silva, central Bank of Sri Lanka, Colombo 2001.
Covering the history between 3rd Century B.C. and 1998 A.D., the book makes an account of Sri lanka's heritage on coinage, chronologically arranged and well illutrated.

THE HILLS OF PARADISE


Dr. S.N. Breckenridge, Stamford Lake Publications, 2001, Pages 305, Price Rs 1,500.
This book, well illustrated with photographs, encapusles within 305 pages, the recent history of the Country from the Dutch era.

LITERATURE




PERSPECTIVES ON POST-COLONIAL LITERATURE


Edited by D. C. R. A. Goone- tilleke, Skoob Russell Square, London.
This important collection of essays span an impressive range, from stimulating sceptical analysis by distinguished novelists Nayantara Sahgal and Dan Jacobson on the forces that underlie much post-colonial literature and Yasmine Gooneratne on issues of gender, to original essays by eminent critics. The scholarly essays examine crucial general topics: Ken Goodwin on writing as a reflection of reactions to the colonial encounter, Zohreh T. Sullivan and Satendra Nandan on the discourse and experience of migrancy; Gerhard Stilz on transformations of tropical landscape; Bruce Bennett on regionalism in an Australian context and Bernth Lindfors on the actual teaching situation.
books@skoob.com

LUTESONG AND LAMENT : Tamil Writing from Sri Lanka


Edited by Chelva Kanaganayakam, TSAR Publications, Canada, 2001.
The translations in this book bring together, for the first time ever, a comprehensive selection of modern, post-independence Tamil creative writing from Sri Lanka. More than thirty authors, living now in Sri Lanka, Britain, Canada, France, and Norway are represented. Their work reflects a tumultuous reality gripped by ethnic, religious, and linguistic strife that have almost torn the island nation apart. The short stories and poems in this collection are unique in their imaginative power, their control of form, and their depth of experience.
inquiries@tsarbooks.com
PHOTOGRAPHY

JULIA MARGARET CAMERONN


19th Century Phototographer of Genius
By Colin Ford
Getty Publications
ISBN : 1 85514 332 1
(2003)

1866-1914
AVENTURIERS DU MONDE


Pierre Fournier, Jean-Christophe Rufin, Jean-Claude Guillebaud, Jean Lacouture
Editions de l'Iconoclaste
ISBN : 2913366074
(2003)
SOCIETY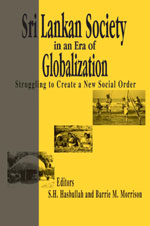 SRI LANKAN SOCIETY IN AN ERA OF GLOBALIZATION


S H. HASBULLAH University of Peradeniya, Sri Lanka
B.M. MORRISION University of British Columbia, Vancouver
Sage Publications
ISBN 0761932216
July 2004
Struggling to Create a New Social Order

COULEUR CANNELLE, UNE PLANTATION DE CANNELLE A CEYLAN


Nicole - Lise Bernheim
Arléa - ISBN : 2869595921.
Splendor of Ceylon, the brillant island, center for the cinnamon. In order to penetrate the mystery of the mythical spice, Nicole-Lise Bernheim meets a planter who welcome her in his house, in Ratnapura, the region of gems. She stays there several months.
The result is a very original account, a journey through the daily life of an organic plantation and through the modern Sri Lanka. "Couleur cannelle" is the third account by Nicole-Lise Bernheim of her Asian journeys.

LES COUREURS D'EPICES


Edith Huygues, Francois-Bernard Huygues
Payot
ISBN : 22288916101.

BIOGRAPHY OF AN ISLAND


Eric Meyer
Eric Meyer
Viator Publications, Negombo, 2003-ISBN : 955-8736-02-3.
This book attempts to pinpoint, through a study of the island's past and present histories, what constitutes the basis of its multiple identities, which have been constantly nourished by outside elements and shaped over the past two thousand years.

CREATING PEACE IN SRI LANKA


Robert I. Rotberg, Editor.
This book contains a series of interrelated chapters by Sri Lankan, British, and American authorities on the war and its aftermath.
They discuss how to end the war and how the island nation can heal its physical and psychological wounds.
This book suggests that third-party mediating intervention is essential, and that any resulting peace can only be sustained by intensive attention to serious political devolution and societal reconciliation.


CRIME IN SRI LANKA


Pr Nandasena Ratnapala.
A Sarvodaya Vishva Lekha Publication
This slim but informative work by one of Sri Lanka's most well known sociologists, meets a long felt need. For, crime in Sri Lanka today, has reached unprecedented heights.
Far away from the passion and the dramatization of medias, it is an urgent need that intellectuals and scientists bring their contribution to the understanding of this burning issue.

NOBODIES TO SOMEBODIES: THE RISE OF COLONIAL BOURGEOISIE IN SRI LANKA


Kumari Jayawardena, Social Scientists' Association and Sanjiva Books, Colombo 2000, 390 pages, 15.25 $.
This volume is a pathfinding piece of research on the rise of the Sri Lankan capitalist class in the nineteenth century during British colonial times. The author, Jayawardena - who has previously worked on the rise of the labour movement in Sri Lanka as well as made notable contributions to the study of feminism and nationalism - has in this research turned her attention to the growth and consolidation of the domestic bourgeoisie.
Social Scientists' Association

ISLAND OF BLOOD


Anita Pratap, Penguin-Viking, India 2001, 272 p., Rs: 295 (India).
This book constitutes a personalized memoir of the war experiences juxtaposed with the everyday life of its author, an Indian war correspondent.
In the course of her career as a journalist, Anita Pratap reported extensively from the conflict zones of South Asia. During the eighties and nineties, when the Indian media rarely ventured into flashpoints like Sri Lanka and Afghanistan, Anita Pratap braved the odds to send in reports from the front, over and over again.
www.penguinbooksindia.com

LA QUESTION IDENTITAIRE EN ASIE DU SUD (Identities in South Asia)

Edited by Jean-Luc Racine, Editions Ehess, 406 p., 30 € [French].
Partition of India in 1947, partition of Pakistan in 1971, secessionism of Tamil Tigers in Sri Lanka, regionalism that ends into armed conflicts in several Indian states, inter-religious conflicts and sectarian divisions, linguistic revendications, development of the Hindu nationalism and also of the movement of castes : tensions about identity have marked the last half-century history in South Asia.
Contribution related to Sri Lanka : "History and linguistics in the debate on identities in Sri Lanka" by Éric Meyer.
www.ehess.fr/editions/publications.html

BUILDING WOMEN'S CAPACITIES - Interventions in Gender Transformation

Edited by Ranjani K. Murthy, Sage Publications, India.
"Building Women's Capacities" is a book that deals with the empowerment of the marginalised ; i.e., women. Though it focuses on women in India, many of the ideas given can be used as a source of inspiration by donor agencies and NGOs, and students in the field of gender studies, no matter where in the world they be. The book attempts to make men sensitive to gender issues and to strengthen the capacities of women.
TRAVEL

THE AGE OF KALI
Travels and Encounters in India


by William Dalrymple
Paperback 356 pages (June 21, 1999)
Publisher: Flamingo
ISBN: 0006547753

"LES NABIS"

Claire Frèches-Thory and Antoine Terrasse. Editions Flammarion, December 2002 [French]. ISBN : 2080110632.
Probably the most important artistic movement in fin-de-siècle France, the Nabis was composed of artists of various national backgrounds who formed an artistic brotherhood. Now available as a paperback, this beautifully illustrated book, first published in 1990, remains the leading study devoted to the Nabis. It covers all media, from painting to sculpture, graphic arts to theater designs and is a testament to their rich legacy.

"ULTRA-SAUVAGE GAUGUIN SCULPTEUR"

Laurence Madeline. Editions Adam Biro, October 2002 [French]. ISBN : 2876603535.
Published at the occasion of the commemoration of death's Centenary of Gauguin, this well-illustrated book represents a new and deep approach of his work as a sculptor, a dimension of the artist which has been neglected since the catalogue by Christopher Gray (1963, Baltimore, The John Hopkins Press).

JE SUIS DANS LES MERS DU SUD - On the steps of Paul Gauguin

Jean-Luc Coatalem, Grasset, 2001, 18,34 € [French].
This literary biography of Gauguin has been recently awarded by Amerigo Vespucci price.
"The man fascinated me. Like him, I am also attracted to the islands, these boundaries, lost in the ocean, where we can try to become the Other... For me, Gauguin is a kind of saint. He has been initiated. He experienced the enlightenment." (Jean-Luc Coatalem)
Read also : "In the Light of Gauguin..."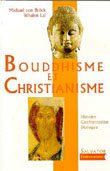 "BOUDDHISME ET CHRISTIANISME" - History, Confrontation, Dialogue

Michael Von Brück and Whalen Lai, preface and translation by Michel Deneken, introduction by Hans Küng. Editions Salvator, 2001 [French].
A very complete synthesis on the relationships between the two traditions which, for thousands of years, have forged the East and the West.
Three parts in this mini-encyclopedia of 800 pages :
• Situation of Buddhism in the world countries with a Christian tradition. Complete geographic survey of all countries which are concerned, including France.
• Comparison between the Christian theology and the Buddhist spirituality and philosophy.
• Interpretations of the two traditions and their encounter in the modern era.
See our page "Spirituality"

DICTIONNAIRE AMOUREUX DE L'INDE


Jean-Claude Carrière, Plon, 2001 [French].
"Tavelling in India is an invitation to experience the weakness of any planning and the failure of conclusions. Constantly, Jean-Claude brings us along to the image of river. River of life, swirling around, powerful, poisoning, unpitying...
Going through this book means crossing today's India, the country of an impressive person like Satyajit Ray or the not less impressive "homes" of Mother Theresa, the ruins of the temples of ancient India - the living origins of the "Mahabharata" - from Krishna to Buddha through the yoga, without forgetting the music and the castes and the erotic art." (Peter Brook)

L'ART DU GRAND NORD

Jean Malaurie, Jean Blodgett, Aldona Jonaitis, Citadelles, 620 p., colour illustrations, 193,00 € [French].
An art that has been discovered by André Breton, and presented by Jean Malaurie. A sum total of ten years of work at the discovery of the world of Inuits, Sâmes, Aïnous, and of Siberia...
And also ....


Walter Nubin, "Sri Lanka : Current Issues and Historical Back- ground", Nova Science Publishers, ISBN : 1590335732, January 2003.

Kumari Jayawardena, "Nobodies to Somebodies", Zed Books, ISBN : 1842772287, December 2002.

Alex Argenti-Pillen, "Masking Terror: How Women Contain Violence in Southern Sri Lanka", University of Pennsylvania Press, ISBN: 0812236882, December 2002.

Indra Pathmanathan (Editor), Jerker Liljestrand (Editor) , "Investing in Maternal Health in Malaysia and Sri Lanka (Health, Nutrition, and Population Series)", World Bank, ISBN: 0821353624, December 2002.

D.J. McConnell, K.A.E. Dharmapala, G.K. Upawansa, Nimal Attanayake, "The Forest Farms of Kandy: And Other Gardens of Complete Design" (Ashgate Studies in Environmental Policy and Practice), Ashgate Publishing Company, August 2002.

Krishnan Guruswamy, "Sri Lanka" (Countries of the World), Gareth Stevens, September 2002.

W.I. Siriweera, "History of Sri Lanka", from earliest times up to the sixteenth Century, Colombo, 2002.

Dr Neluka Silva (edit.), "The Hybrid Island" - Culture crossings and the invention of identity in Sri Lanka, essays, "Social Scientists Association", Sri Lanka, 2002.

Barefoot Bookshop, 704 Galle Road, Colombo includes a French section. Hundred of new books, exclusively in French, are offered at the same retail price, in Euros, as in Europe.
The bookshop is open daily : 10.00 a.m. to 7.00 p.m.
(11.00 a.m. to 4.00 p.m. on Sundays).

An excellent selection of books on Sri Lanka : Viator Publications.