&nbsp&nbspThe bilingual site devoted to the cultural life in Sri Lanka and in France&nbsp&nbsp&nbsp&nbsp&nbsp&nbsp&nbsp&nbsp&nbsp&nbsp&nbsp&nbsp&nbsp&nbsp&nbsp&nbsp&nbsp&nbsp&nbsp&nbsp&nbsp&nbsp&nbsp&nbsp&nbsp&nbsp&nbsp&nbsp&nbsp&nbsp&nbsp&nbsp&nbsp&nbsp&nbsp&nbsp&nbsp&nbsp&nbsp&nbsp&nbsp&nbsp&nbsp&nbsp&nbsp&nbsp&nbsp&nbsp&nbsp&nbsp&nbsp&nbsp&nbsp&nbsp&nbsp&nbsp

Le site bilingue consacré à la vie culturelle au Sri Lanka et en France

---

French Film Festival 2001 in Kandy, Sri Lanka

The Embassy of France, the Alliance Française de Kandy and the Arts Council, University of Peradeniya present a French Film Festival, from May 29th May to 04th June 2001, at the Arts Theatre, University of Peradeniya. Admission is free of charge.

&nbsp
May 29

&nbsp
May 30

&nbsp
May 31

&nbsp
June 01

&nbsp
June 02

&nbsp

June 03

&nbsp


June 04

&nbsp



5.30 p.m.&nbsp&nbsp&nbsp&nbsp
7.30 p.m.

5.30 p.m.
7.30 p.m.

5.30 p.m.
7.30 p.m.

5.30 p.m.
7.30 p.m.

10.30
2.30 p.m.
5.30 p.m.

10.30

2.30 p.m.
5.30 p.m.

5.30 p.m.
7.30 p.m.


Les 400 Coups (1959) [Trouble Maker]
Un Homme et Une Femme (1966) [A Man and a Woman]
&nbsp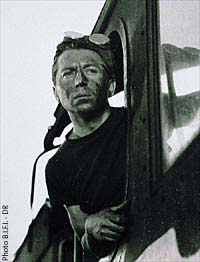 La Bataille du Rail &nbsp[ The Railway Battle ] (1946)


Director : René Clement (1913-1996)
Photo : Henri Alekan
Music : Yves Baudrier
Cast: Antoine Laurent, Jacques Desagneaux, Leroy, Redon, Pauléon, Jean Clarieux
Running time : 80 mins.

'La Bataille du Rail' is the only seriously realist film that France made at the Liberation in 1945. It took the Grand prix at the first Cannes Festival in 1946. Although its director, Clément, was influenced by the Italian school of neo-realism (Roberto Rossellini), the idea for the film had begun earlier in Nice, where he and his associates had organized a discussion club, which later became IDHEC, the French film school.

The film's is still fresh today, and there can be no doubting its emotional impact.
&nbsp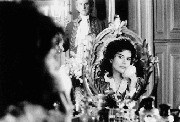 Ridicule (1996)


Director : Patrice Leconte
Script : Rémy Waterhouse
Cast: Fanny Ardant, Jean Rochefert, Charles Berling

Versailles 1783 under the reign of Louis XVI, six years before the French Revolution.
The King's Court was like a jungle, everyone striving to be as witty as possible, but few if any succeeding. In the few years before the monarchy collapsed, courtesans, clerics, noblemen, barons, courtiers of all stripe suffered their defeats, their requests unrequited. And as the rate of failures increased, the wit grew more cruel and hurtful, the ridicule turned ever more parlous. A man's life could be ruined in a moment if the King disapproved of his wit and found him ridiculous.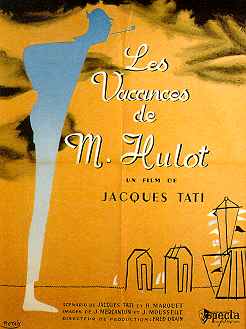 Les Vacances de M. Hulot &nbsp[ Mr Hulot's Vacation ] (1953)


Director : Jacques Tati
Script : Jacques Tati and H. Marquet
Photo : Jean Mousselle, Jacques Mercanton
Music : Alain Romance
Cast: Jacques Tati, Louis Perrault, Nathalie Pascaud, Michele Rolla.
Running time : 96 mins

Mr. Hulot is going to spend his vacation in a small town near the beach in Britany. There, he comes across many troubles and the spectators will enjoy not less than 287 (!) jokes...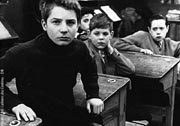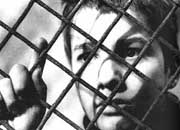 Les 400 Coups &nbsp[ Trouble Maker ] (1959)


Director : Francois Truffaut
Script : Marcel Moussy, Francois Truffaut
Photo : Henri Decae
Music : Jean Constantin
Cast: Jean-Pierre Leaud, Claire Maurier, Albert Remy, Guy Decomble, Henri Virlogeux
Running time : 93 mins

Francois Truffaut's "The Trouble Maker" is one of the first and most important films of the French "New Wave" of the late 1950's - early 1960's.

Young Antoine Doinel is not loved by his parents, specially by his mother. Since he does not like the school, he plays truant together with his friend René. After having stolen a type-writer, he is placed in a home for child offender from where he escapes to run towards the sea.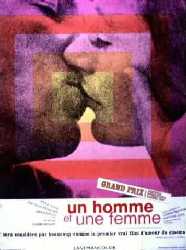 Un Homme et Une Femme &nbsp[ A man and a Woman ] (1966)


Director : Claude Lelouch
Script : Claude Lelouch, Pierre Uytterhoeven
Photo : Patrice Pouget, Jean Collomb
Music : Francis Lai
Cast : Anouk Aimée, Jean-Louis Trintignant, Pierre Barouh, Simone Paris
Running time : 107 mins

A racing car driver, Jean-Louis, meets up with a young woman, Anne, at a school attended by their children. Jean-Louis and Anne start a close friendship, but both are troubled by memories of their former partners. In the end, it looks as if Anne cannot bear to go on with the relationship, in spite of her obvious attraction for Jean-Louis.

&nbsp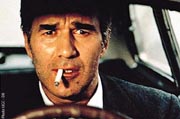 Les Choses de la Vie &nbsp[ Little Things of Life ] (1979)


Director : Claude Sautet
Script : Paul Guimard, Jean-Loup Dabadie, Claude Sautet, after the novel by Paul Guimard
Photo : Jean Boffety
Music : Philippe Sarde
Cast : Michel Piccoli, Romy Schneider, Léa Massari, Gérard Lartigau, Jean Bouise
Running time : 89 mins



Pierre, an architect of 40 becomes the victim of a car accident. While he is lying on the grass, the bits and pieces of his life return to him. Being separeted from his wife Catherine, he was living with Hélène. He had written her a break-up letter and was getting ready to spend his vacation in the Ré Island with his son. He imagines that he is in his sailing boat in company of his family. But he already sinks into the sea and death.

&nbsp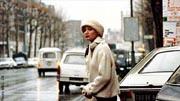 Le Dossier 51 &nbsp[ File No 51 ] (1978)


Director : Michel Deville
Script : Michel Deville, Gilles Perrault, after the novel by Gilles Perrault
Photo : Claude Lecomte
Music : Franz Schubert
Cast : François Mathouret, Roger Planchon, Françoise Lugagne, Anna Prucnal
Running time : 108 mins

Dominique Auphal, a diplomat, is put under the surveillance by the intelligent service of another country, in order to find a weakness of his life which apparently was beyond reproach. He becomes the "51" and his private life is spied, analysed and commented. The revelation of a supressed homosexuality leads him to commit suicide.

&nbsp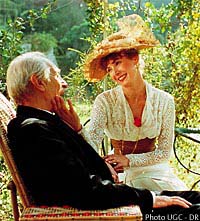 Un Dimanche à la Campagne &nbsp[ A Sunday in the Open Country ] (1984)


Director : Bertrand Tavernier
Script : Bertrand and Colo Tavernier
Photo : Bruno de Keyser
Music : Gabriel Fauré, Louis Ducreux, Marc Perrone
Cast : Louis Ducreux, Sabine Azéma, Michel Aumont, Monique Chaumette
Running time : 94 mins

When he left that morning to see his children and grand children who come to see him practically every week, Mr. Ladmiral did not know that this Sunday would not be like the others and that he was going to undergo the emotional moments which risked to distress his life.

&nbsp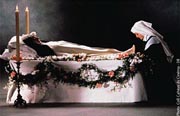 Thérèse &nbsp[ Theresa ] (1986)


Director : Alain Cavalier
Script : Alain Cavalier, Camille de Casabianca
Photo : Philippe Rousselot
Cast : Catherine Mouchet, Aurore Prieto, Sylvie Habault
Running time : 90 mins

Thérèse Martin is a very young Carmélite, happy and idealistic. The death of her father, the situation of the convent, privation and lack of care deeply affect her health. At the same time, she has to struggle against physical suffering and the doubt which undermines her faith. She dies of tuberculosis in 1897. She is declared as a saint in 1925.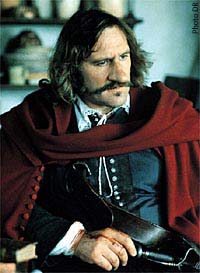 &nbsp
Cyrano de Bergerac (1990)


Director : Jean-Paul Rappeneau
Script : Jean-Paul Rappeneau, Jean-Claude Carrière, after the novel by Edmond Rostand
Photo : Pierre Lhomme
Music : Jean-Claude Petit
Cast: Gérard Depardieu, Anne Brochet, Vincent Perez, Jacques Weber
Running time : 135

The film is set in the 17th century Paris. Cyrano de Bergerac, the fearsome fenceur and poet but distressed by his long nose, is secretly in love with his cousin Roxane. He does not dare to reveal his passion. But it is handsome Christian that Roxane likes. Cyrano and Christian go to serve in the same regiment and become friends. Since Christian does not know how to win a girl, Cyrano agrees to lend him his eloquence...
&nbsp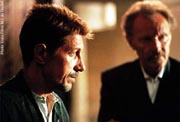 Van Gogh (1991)


Director : Maurice Pialat
Script : Maurice Pialat
Photo : Emmanuel Machuel, Gilles Henri, Jacques Loiseleux
Music : Arthur Honegger
Cast: Jacques Dutronc, Alexandra London, Gérard Séty, Bernard Le Coq
Running time : 158

In May 1890, 30 year old Vincent Van Gogh leaves Saint-Rémy in Provence where he was confined to a mental institution for his going wild. He settles in Auvers-sur-Oise. He is an unknown painter, he has only 48 eight canvases to paint. His death aproaches, but he does not know it (he commits suicide on 27th July in the same year). He does not know either that he is Van Gogh.
&nbsp
&nbsp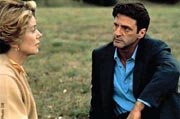 &nbsp
Ma Saison Préférée (1993) [ My prefered Season ]


Director : André Téchiné
Script : André Téchiné, Pascal Bonitzer
Photo : Thierry Arbogast
Music : Philippe Sarde
Cast: Catherine Deneuve, Daniel Auteuil, Marthe Villalonga, Jean-Pierre Bouvier
Running time : 125

This is a story of a brother and a sister who are reunited at a powerful and intense moment. Their mother is gradually losing the grip on sanity and life. This forces brother and sister to face what they have to become, what they have accomplished, what they have made of their own lives - for better or for worse. There is no question of nostalgia, for the past dwells in the present. Between the giddyness of reunion and the pain of parting, the brother and sister finally assess their true places in the world.