H O M E &nbsp / &nbsp I N &nbspB R I E F
Sri Lanka / France

Cinema

Dance

Exhibition

Heritage

Literature

Music

Photography

Poetry

Spirituality

Travellers

Fascination of the body

Paul Cézanne

In the Light of Gauguin

Globalization

Jean de La Fontaine

Malraux / Segalen

Pigeon houses in Quercy

Raphael

Saint-Exupéry

Abortion

AIDS

Death Penalty

Mental Health

Raphael

Miniatures of Kangra, India

Pablo Picasso (1881 - 1973)
Auguste Rodin (1840 - 1917)
Picasso érotique
« Art and sexuality are the same thing ...

The art is not innocent...
it should be banned for the ignorant innocents,
avoiding its contact with
those who are nor enough prepared.

Indeed, art is dangerous.
If it is innocent, it is not art.»

Pablo Picasso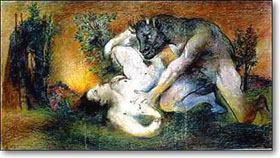 Dora and the Minotaure, 5th September 1936. Indian ink, coloured pencils and scratching on paper; 40,5 x 72 Paris, musée Picasso.
« In eroticism, the question is always a dissolution of constituted forms. »
Georges Bataille.
«All the works of Picasso are erotic : the creation is always a product of the
sexual impulse.
From the first drawings, when he was 8, which reveal a precocious interest for the woman, till the last ones, a few days before his death - dislocated and pathetic visions of female genitals - the career of the greatest painter of the 20th Century takes place
under the sun of Eros,
and the shadow of Thanatos.»
Gérard Régnier
The exhibition of the "Galerie Nationale du Jeu de Paume" in Paris is now in
Musée des Beaux Arts de Montréal
1379 et 1380, r. Sherbrooke Ouest
Tel : 514 285 1600.
Website : www.mbam.qc.ca
The Montreal Museum presents to its visitors, till the 16th of September, a display which takes some liberty with the classical presentation and gives a large place to fantasy.
As Jean-Jacques Lebel, commissaire général, says : "In art, we must be voyeur"... therefore, partitions and keyholes punctuate the presentation of some 350 works.
Video screens allow an easy access to sketch books - for example, the multiple preliminary sketches of the famous "Demoiselles d'Avignon", a discreet name in place of what it was supposed to be called "Le bordel d'Avignon"...

Nude with crossed legs, 1903.
Nothing is hidden in these works about the intimate link that united
his art and his passion for sexuality.
Geneviève Breerette - le Monde
Expression of his fantastic creative power and the conflict between Eros and Thanatos, his whole work is, in some way, basically erotic.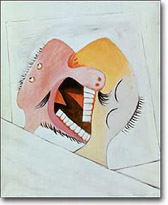 The kiss, 12th January 1931
Oil on canvas ; 61 x 50,5 Paris, musée Picasso.

This exhibition is focused on a series of drawings, sketches, paintings and sculptures, which, specifically depict themes that are linked to desire and sexuality. From the tender caresses to the most violant grips, these works go through the totality of the spectrum of love.

The calling into question by Darwin and Freud of the idea of stability will have a great influence on the way of representation. Picasso and cubism shatter the rules of proportions which have been canonized by the classical painting.

From his youth, Picasso draws like he breaths and desires. The first period starts in Paris in 1901, but continues in Barcelona between 1902 and 1903. The second period in Paris develops between 1905 and 1906.
The exhibition presents several paintings of his blue period from 1901 to 1904, which begins by the suicide of Casagemas, one of his companions, and his pink period, that culminates with the Harem in 1906, in which the paint becomes flesh and the flesh becomes paint, at the same time when he realises his famous Demoiselles d'Avignon.
The erotic themes are practically absent during the cubist period of Picasso, but they are in abundance when Picasso meets the surrealist movement.
"A rich collection of drawings, engravings, watercolours and paintings brought together, giving evidence how eroticism has always been present in the works of Picasso : they belong to the same vital impulse, to the same energy, to the same desire of possession and pleasure.

For him, looking at is already taking, and possessing.
All photographs of Picasso show his extraordinary eyes : his eyes were almost frightening,

« eyes of a killer», according to one of his friends.
From one drawing to another, life of Picasso and his loves are interpreted. Along his whole work, these two themes are repeated :
the grip, the kiss. "
France Huser - Nouvelobs
&nbsp&nbsp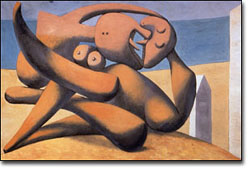 Seaside figures, 12th January 1931 Oil on canvas,
130 x 195 Paris, musée Picasso.
Read more

Catalogue of the exhibition

, 368 pages, 400 colour illustrations, 150 black and white, size 22 x 27 cm, paper-back, editions RMN/Montréal/Barcelone, French, English, Spanish versions, 290 FF (44,21 e) ; hard-cover, 380 FF (57,93 e).
The catalogue includes essays by Brigitte Baer, Jean Clair, Marie-Noëlle Delorme, Dominique Dupuis-Labbé, Malen Gual, Jean-Jacques Lebel, Annie Le Brun, Marilyn MacCully, Maria Teresa Ocana, Pascal Quignard, Patrick Roegiers, Robert Rosenblum.
Le petit journal de l'exposition, free of charge, editions Galerie nationale du Jeu de Paume.
Special issue : L'Oeil, co-sponsored by L'Express and France-Culture.
Special issue Découverte Gallimard/RMN, Dominique Dupuis-Labbé, 45 FF (6,86 e).

"the poet of the human body"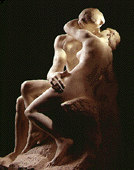 Le Baiser (1886).
"In all works of Rodin, dense, anxious in researches,
burning, we should not forget, with the long hand-to-hand of the artist with his art,
the human body, face, arms,hands,
the all body plays the drama."
The Musée du Luxembourg recently displayed the event which scandalized the bourgeoisie, hundred years ago.
Retrospective of his work at the Exposition Universelle in 1900, this exhibition has been faithfully recreated : almost the totality of works is present, displayed according to the directives of Rodin himself, and on the pillars of his choice.
They are mainly plasterworks : it was the decision of Rodin who wanted to welcome the visitors in his own studio. He liked the plaster, since it keeps the traces of the sculptor's hand and collect the light. He made sure that the light floods in the pavilion : visitors were struck by an extraordinary sensation of dazzle and whiteness.
The visitors were stunned, and most of them scandalized by the intense sensuality of the sculptures...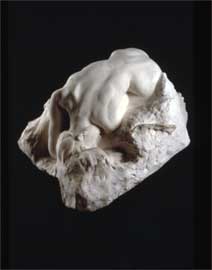 The Danaïde, 1885, Musée Rodin.
Writhed bodies, intertwined bodies. A woman was assaulted by a faun, another bent backwards, her hair flowing as water. Loins deepening, necks bending...
&nbspCrouching woman, 1881.

It was the provocating breast of the small faun girl, the voluptuous attitude of the one who rests on a book, offering herself with her widened legs, or the power of « Iris », that the sculptor catches in her leap, legs apart, offering to the spectator what Courbet called « the origine of the world ».

Amorous frolics celebrated the pleasures of the body, an almost playful sexuality, which alternates with the tragic of damned women or this «Crouching woman», one of the numerous figures of «the Gates of Hell» (1880 - 1917).

&nbspIris, messenger of gods, 1891, Musée Rodin.
From one sculpture to another, Rodin composes a trembling poem of flesh and passions. He dares showing statues that look as mutilated or uncompleted, such as the great « Eve » in 1889 which was interrupted because his model was pregnant.
Beautiful, the body in arabesque of « the Meditation » has neither arm nor knee. « In art, it is necessary to know how to sacrify », said he, rejecting everything he found unnecessary. According to him, a sculpture looks like the life, with the ability to evolue, to transform itself.

« Rodin en 1900. L'Exposition de l'Alma »,
Musée du Luxembourg, 19, rue de Vaugirard, Paris-6e ;
Tel : (00 33) 01 42 34 25 94.

Reference : France Huser (Le Nouvelobs)

Echo

Rainer Maria Rilke

« It was, said Rilke, the creation itself which took the form of Balzac to appear ; the pride of creation, its exaltation and its exhilaration. »

«Yesterday, Monday, at 3 p. m., I went to Rodin's for the first time, Studio "rue de l'Université 182". I went there along the Seine. A young girl was posing. He hold something small in plaster in his hand and scratched it. He stopped his work, gave me a seat, and we talked. He appeared nice and gentle. It was like I knew him for a long time ; and simply seeing him again : I found him smaller and nevertheless more powerfull, more benevolent, more noble.»

Letter to his wife Clara, September 2nd 1902

Study on Rodin (1903), written at the end of 1902, was completed in 1907 with a seconde part. With Rodin (and Cézanne), Rilke said that he has learnt how "to see and to do"
The second part of his New Poems is dedicated : "To my great friend Auguste Rodin".

&nbsp


Antoine Bourdelle





"Bad destiny

to follow his time.

The best gift is

going ahead."

Antoine Bourdelle,
after Michel-Angelo.

A. Rodin, The fall of Icare, b.1900.


On the bookshelves of our Library


L'Art, Revue Hebdomadaire Illustrée, 1882, tome III, pp. 73-74.
L'Art à l'Exposition Universelle de 1900, organized by M. Jules Comte, December 1900, Paris, pp. 238-239.
La Revue de l'Art Ancien et Moderne, tome IX, January-June 1901, pp. 417-418.
L'Art Décoratif, Revue Mensuelle d'Art Contemporain, Director : Gustave Soulier, June 1905, pp. 267-268.
La Sculpture et Rodin, by Antoine Bourdelle - With twenty-two compositions by Antoine Bourdelle, (nineteen unpublished compositions), and preceded by "Quatre Pages de Journal" by Claude Aveline. Paris, Editions Emile-Paul Frères, 1937.

"Rodin inconnu" (Unknown Rodin), catalogue of the exhibition, Musée du Louvre, Paris, December 1962-January 1963, Ministère d'Etat Affaires Culturelles.
"L'Apothéose de Rodin", in L'Estampille, January 1983, pp. 4-29.


Rodin inconnu
&nbsp
&nbsp