The Seven Wonders of the world.
Les Sept Merveilles du monde
by Kupka
| | |
| --- | --- |
| Pyramids of Giza... | &nbsp&nbspthe oldest of the wonders. |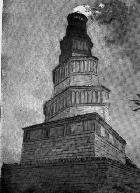 Pharos of Alexandria
Phare d'Alexandrie.

Mausoleum of Halicarnassus
Le Tombeau de Mausole.


Temple of Artemis at Ephesus
Le Temple de Diane à Ephèse.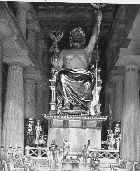 Statue of Zeus at Olympia
Le Jupiter Olympien.

&nbsp


Colossus of Rhodes
Le Colosse de Rhodes.


Hanging Gardens of Babylon
Les Jardins suspendus de Babylone.
Original drawings
Monthly magazine "Je sais tout"
Special issue Christmas 1909.
&nbsp