H O M E &nbsp / &nbsp I N &nbspB R I E F
Sri Lanka / France

Cinema

Dance

Exhibition

Heritage

Literature

Music

Photography

Poetry

Spirituality

Travellers

Fascination of the body

Paul Cézanne

In the Light of Gauguin

Jean de La Fontaine

Malraux / Segalen

Picasso-Rodin

Pigeon houses in Quercy

Raphael

Saint-Exupéry

Abortion

AIDS

Death Penalty

Mental Health

Raphael

Miniatures of Kangra, India

Globalization
DO YOU KNOW THAT...
...in 1999,
more than 50% of the world population
has never got or given a phone call?

Manuel Castells
LA GALAXIE INTERNET
Translated by Paul Chemla
Fayard 2002

What did you say? "Globalization" !
UNO has conducted a worldwide survey including the following question :
"Please, let us know your opinion about the lack of food in the rest of the world?"
This survey has been a failure, since :
- in Africa, nobody knew what was "food" ;
- in Western Europe, nobody knew what was "lack" ;
- in Eastern Europe, everybody had forgotten what is the meaning of "please" ;
- in South America, nobody had learnt what is an "opinion" ;
- in United States, nobody knew what is "the rest of the world".
A "story" related by Ivan A. Alexandre, in Diapason, May 2001.

Christians and Globalization

"Globalization, shock of cultures, weight of the neo-liberalism and of inequalities... The question haunts our actuality.

What is the position of Christians in this debate?

"Les chrétiens et la mondialisation"
Pierre Vilain
Desclée de Brouwer ISBN : 2220051536 (August 2002)



Globalization and Its discontents

JOSEPH E. STIGLITZ
GLOBALIZATION AND ITS DISCONTENTS
Publisher : W.W. Norton & Company, 2002.
To day, globalization, it is not working...
it's not working for the poor of the world...
it's not working for the stability of the world economy...

Joseph Stiglitz has been recruited, in 1993, by the President Clinton as a member of the Council of Economic Advisers.
In 1997, he became Vice-President of the World Bank. He resigned at the beginning of the year 2000.
He got the Nobel Prize of Economy in 2001.

We pretend to help developing countries while we force them to open their markets to the products of insdustrialized nations, which themselves continue to protect their own markets.
Such politics are making rich people still richer, and poor people still poorer, and more angry.


LONDON
30 May 2001

Amnesty International denounces the
consequences of globalization

"In more than 80 countries, the per capita income in 2000
is lesser than
in 1990, at least 1.3 billion of humans beings
do an attempt to survive with less than 1 US$ a day".


"An impoverishment and an increase of inequality" have been the consequences of the globalization.

Amnesty International (AI)
Annual Report 2001.

"Globalization has resulted an enrichment of a minority and a decline and despair for the majority"(...)

Amnesty endeavours from now on to act more directly in favour of economic, social and cultural rights. Its objectives are no more limited to the defense of the only civil and political rights, but concern the whole fundamental human rights (...)

It is impossible for the governments to clear themselves of responsibility in front of the globalization. They can and must look at the welfare of workers.

The Secretary General of Amnesty, Pierre Sané (Senegal)

"Amnesty International, 40 ans d'affiches pour la liberté"


("Amnesty International, 40 years of posters for liberty")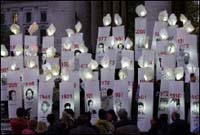 Created by many famous artists such as Bilal, Picasso, Cartier-Bresson, Miro, Topor, Plantu or Botero, these black and white or color posters decline the "disaster of humanity" (Bilal).

Edited at the occasion of a campaign against "disappearances" and political murders, a photograph of an apple-tree, full of flowers in the middle of a nice prairie, highlights that "this charming place of paradise is the ideal location for dissimulating a mass grave".