H O M E &nbsp / &nbsp I N &nbspB R I E F
Sri Lanka / France

Cinema

Dance

Exhibition

Heritage

Literature

Music

Photography

Spirituality

Travellers

Fascination of the body

Paul Cézanne

In the Light of Gauguin

Globalization

Jean de La Fontaine

Malraux / Segalen

Picasso-Rodin

Pigeon houses in Quercy

Raphael

Saint-Exupéry

Abortion

AIDS

Death Penalty

Mental Health

Raphael

Miniatures of Kangra, India

Arthur Rimbaud
Illustrations : Gabriel Lefebvre
Editions La Renaissance du Livre - 160 pages – 120 illustrations.
Some fourty poems illustrated by Gabriel Lefebvre, the illustrator of literature for youth.

The artists are always touched by the poetry of Arthur Rimbaud (1854-1891), its strenght and its evocative power. Black and white or colour, whatever the images - painting, drawing or photography - they echo the poems.

Gabriel Lefebvre is fascinated by this poet who remains today as a symbols of the early genius in literature.
&nbsp
Jean Lahor

&nbsp&nbsp&nbsp&nbsp&nbsp Discovering a French doctor, philosopher and poet
&nbsp&nbsp&nbsp&nbsp&nbsp&nbspof the 19th Century,
&nbsp&nbsp&nbsp&nbsp&nbsp A lover of the East.
&nbsp&nbsp&nbsp&nbsp&nbsp&nbspGeorges Cazalis, known as Jean Lahor (1840-1909).

1872 - Le Livre du Néant

1875 - L'Illusion

1893 - Identité

1893 - L'Enchantement de Siva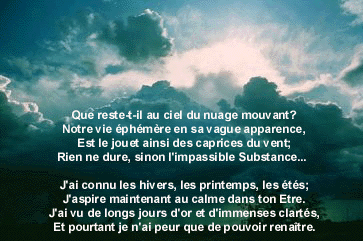 Père, engloutis-moi donc, sois donc bien mon tombeau;
Et, si je participe à ta vie éternelle,
Que ce soit sans penser, tel que la goutte d'eau
Que la mer roule et berce inconsciente en elle.
Je ne jouirai plus, mais ne souffrirai pas;
J'ai ri, pleuré, souffert, j'ai vécu : fais-moi trêve;
Je veux le vrai néant et l'absolu trépas,
Et le sommeil sans fin, que ne trouble aucun rêve...
Le Nuage (excerpt)
L'Illusion (2nd edition, 1888)